Training
Latest Training Resources
Completing a safe and successful marathon requires adequate preparation and vigorous training. The American College of Sports Medicine has established guidelines for pre-participation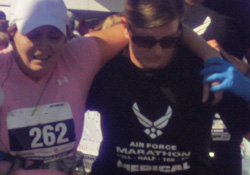 assessment prior to starting a program of vigorous exercise.
The ACSM recommends a complete physical examination and physician-monitored, graded exercise test prior to beginning a vigorous exercise program for those who are apparently healthy and over the age of 45, those with risk factors for cardiovascular disease and over the age of 35, and those with symptoms or disease at any age. Marathon running is not recommended for individuals under the age of 18.
RAce Day Countdown
September 20, 2014
Presenting Sponsors



what'S ON FACEBOOK...
Here's what our friends are saying:
I've definitely added the USAF to my list of runs to do again. :) - Pat Frame
I can tell you from experience that the Air Force Marathon does one of the best jobs anywhere. This is one of my MUST DO EVERY YEAR marathons. - Sid Busch
Like I tell anyone who'll listen, USAF has the best marathon around!!! - Robin Alispones Delnoce
Join the conversation HERE!